We all know weddings can be stressful–the planning and prepping, choosing and coordinating with all your vendors, dealing with family and friends who all bring aboard their own stress, issues, and agendas, and of course all the potential disasters big and small that could happen on your wedding day. It's natural to feel some level of anxiety about your wedding, but what do you do when you already suffer from some kind of anxiety disorder or depression that affects your day-to-day functioning? How do you cope with the added stress a wedding brings? How can you avoid a panic attack when you're being overloaded by well meaning family members or when a few unexpected guests show up at your reception and the venue doesn't have enough chairs out?
First of all, I want to tell you if you suffer from anxiety, depression, bipolar, or PTSD, you are far from alone. I've been diagnosed with anxiety and depression myself, so I completely understand what you're going through and as your wedding photographer, I will do everything in my power to support you and make sure your day goes as smoothly as possible! So what can we do as your photographers to minimize stress? Let's take a look at three possible anxiety-busting ideas.
1. The First Look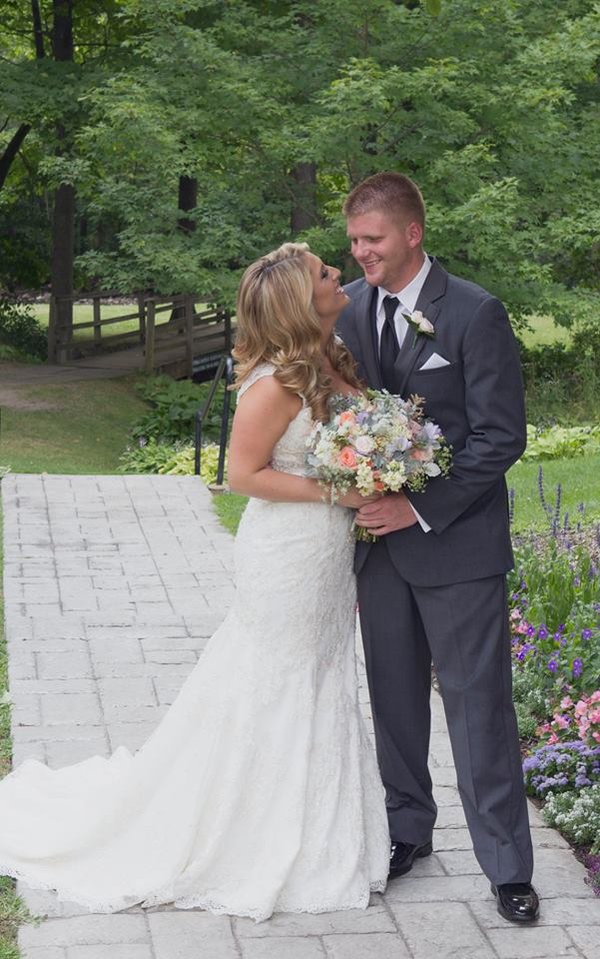 First looks can be a fantastic way to have some alone time with your fiance before the ceremony! After a morning filled with the chaos of getting ready surrounded by your wedding party, parents, and other family members, if you're like me, you're ready for some space and breathing room. Start getting ready early enough and save yourself some time before your ceremony to do a first look.
First looks don't have to be just between you and your fiance. You could also choose to do a first look with your bridesmaids/wedding party. For this, I would recommend waiting to put your dress on until the last moment. Have everyone leave except a few close friends or family members who can help you into your dress and have your photographer standing by so they can capture you getting dressed and your reaction to seeing yourself as a bride!
This gives you a chance to get out of the chaos of "where's my shoes?!" and "Omg! My bridesmaid dress isn't fitting!" that happens during the getting ready period. It gives you a chance to get away from any family drama and away from anyone who's aggravating your anxiety because you have a valid reason to ask them to leave!
2. Tips for low stress portrait sessions
First looks are also great because they flow naturally into intimate portrait sessions with you and your fiance, so you can get a bunch of great shots together and have to spend less time after the ceremony when you're likely going to be hungry and ready to get on to your reception.
You could even get your wedding party photos taken care of before the ceremony while everyone is still looking fresh and isn't thinking about having a big slice of wedding cake. The key of course is to leave enough time and to start getting ready early. Don't stress if you don't get all the portraits you hoped for before your ceremony; there is usually plenty of time to get your portraits finished up before your reception!
Family portraits in my opinion are best done directly following the ceremony. Everyone is in one place and your ceremony site makes a great backdrop. Make sure you communicate ahead of time to your family members you want pictures with that they need to hang out after the ceremony to have their photos taken. Another thing that really makes a difference is to make a list, number it 1-10 and list ten groupings of family members you want photos with (ex. 1. Bride and Groom with Bride's Parents, 2. B&G with Groom's Parents, 3. B&G with grandparents, etc). Also list your family members' names and make sure your photographer has your list. This will make family portraits go super fast because your photographer can just go through your list and call out the names needed for each photo!
Family portraits can still be stressful because of family drama, messy divorces, and family members who just don't get along. Make your photographer aware of any potential issues and family members who may not want to be photographed together. We can work around that stuff to make things less awkward.
3. Staying on Track and Going With the Flow
A good, experienced wedding photographer can help you stick to your wedding day timeline. We know the flow of a wedding, where things can get off track, and how to work with your other vendors to keep everything moving smoothly. We know how to move quickly through your family portraits and how to move you and your soon-to-be spouse through flattering and creative poses. We know what questions to ask you before your big day so we can be prepared as possible.
Ok, so we all know things don't always go just as planned. When that happens, you want a photographer who can go with the flow. We can and have adapted and made the best out of all sorts of crazy situations and mishaps. No matter what happens on your wedding day, you can be assured we will keep our cool, help you keep yours, and do whatever it takes to make sure you have stunning photos!
Finally, remember, as your photographers, Doug and I are well prepared and we got your back! I know what it feels like to have intense anxiety and depression, so I'm always happy to be an ear to listen to you, a shoulder to lean on or an excuse to get away from everyone and everything and take a few deep breaths. When you choose Doug and I as your wedding photographers, you've got two empathetic and understanding allies on your side. No matter what level of anxiety you have when it comes to your wedding, we got this!
Katie
Katie and Doug Photography